Clean Gallery is HTML5/CSS3 compliant, SEO friendly, 100% responsive/mobile friendly, clean and minimal, easy to customize WordPress theme to showcase your content elegantly. It has many features and options to customize various aspects of the theme very easily.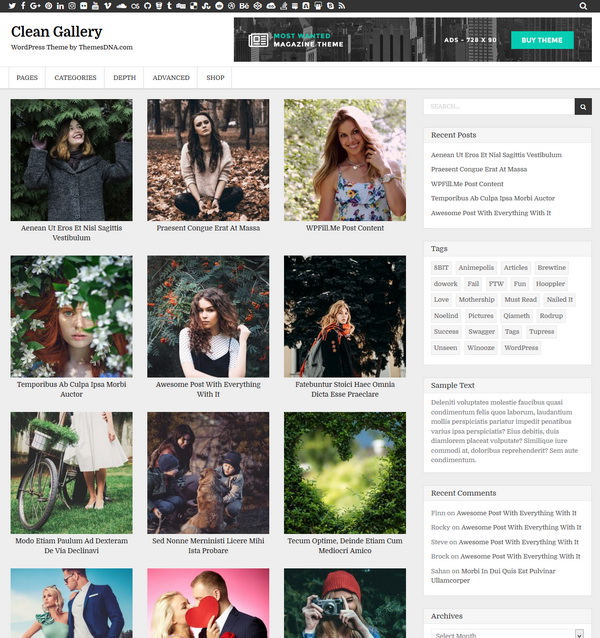 Theme Info:
Theme Version: 1.0.0
Released Date: November 12, 2017
License: GNU General Public License v2 or later
License URI: http://www.gnu.org/licenses/gpl-2.0.html
Tags: one-column, two-columns, left-sidebar, right-sidebar, grid-layout, flexible-header, custom-background, custom-colors, custom-menu, custom-logo, editor-style, featured-images, footer-widgets, full-width-template, theme-options, threaded-comments, translation-ready, blog, photography, portfolio
Clean Gallery WordPress theme is created by ThemesDNA.com
How to Install the Theme?
1. Go to WP Admin > Appearance > Themes > Add New > Upload.
2. Upload the clean-gallery.zip file.
3. Click on Install and Activate.
Theme Settings
You can configure theme settings using WordPress Customizer.
Go to Dashboard > Appearance > Customizer.
Main Theme Features
Responsive Design
This theme is 100% mobile friendly that allows for easy viewing on desktops and mobiles devices like iPhones, iPads or tablets.
Theme Options
You can easily modify many aspects of this theme, adjusting to your needs using WordPress Theme Customizer.
Clean Codes
CleanWP has secured & clean PHP codes without encrypted links on footer. Use this theme with confidence.
Latest WP Version Ready
This theme is fully compatible with the latest version of WordPress updates will be released ASAP when necessary.
Regular Updates
We will update this theme regularly with new features and fixing issues. You can report bugs and suggest us new features.
Cross Browser Compatible
CleanWP is tested on all modern web browsers and compatible with Google Chrome, Mozilla Firefox, Safari, Opera, above IE8 and more.
Translation Ready
Translate this theme into any language with the prepared .po translation file located in the theme's languages folder.
HTML5 & CSS3
This theme is using valid HTML5 and CSS3 coding. There are no unnecessary junk HTML or CSS codes.
Premium Version
If you like Clean Gallery WordPress Theme, you will love the premium version. The premium version of Clean Gallery WordPress Theme offers more features and options.
Typography
EasyWP PRO has over 90 popular Google fonts specifically chosen for you to look your site great. Change fonts easily with only a few clicks in the theme customizer.
Color Options
EasyWP PRO has more color options than the free version. Change colors easily with only a few clicks in the theme customizer.
Custom Widgets
Get some exclusive widgets that allow you to display popular posts, recent posts, random posts and more.
SEO Optimized
EasyWP PRO is SEO friendly than free version and has been coded with keeping SEO best practices in mind to create a solid fundamental for good rankings.
Custom Page Templates
Page templates are a specific type of template file that can be applied to a specific page or groups of pages.
E-commerce
Fully compatible with WooCommerce plugin. Just install the plugin and turn your site into a full featured online shop and start selling products.
Extra Features
PRO version has some features like related posts, scroll buttons and codes are optimized for fast loading.
More Theme Options
PRO version includes many more theme options than the free version including layout options. So you can manage many parts of your theme easily through theme customizer.
This video shows the theme options available in Clean Gallery PRO theme:
Categories: Custom Background, Custom Colors, Custom Logo, Custom Menu, Editor Style, Featured Images, Flexible Header, Footer Widgets, Full Width Template, Grid Layout, Left Sidebar, Light, One Column, One Sidebar, Photography, Portfolio, Responsive Layout, Right Sidebar, Theme Options, Threaded Comments, Three Columns Footer, Translation Ready, Two Columns